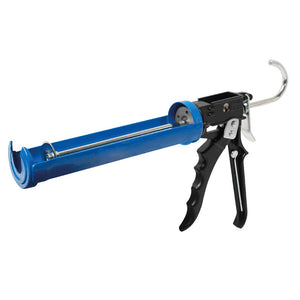 The SFIXX caulking gun has been built to withstand constant use by professionals. Many caulking guns in the market today tend to be produced from low grade materials and have the tendency to fail over time, however the SFIXX mastic gun is produced from a high grade of steel designed to be robust.
It also uses a gear mechanism that gives extra torque when pumping the hand trigger so that applying has never been easier.
Whilst building the SFIXX mastic gun we have also incorporated a spout cutter that can cut down your nozzle without the hassle of having to have a knife or scissors with you to use. Built into the handle is handy anti-clogging tool that can be used to un-clog used sealants.
Manufactured from high grade steel
Designed for professional use
Built in spout cutter
Built in anti-clogging sealant remover
Works with all generic cartridges